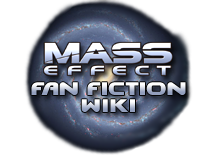 Welcome to the Mass Effect Fan Fiction Wikia
Here you can edit and create your own Fan Fiction about
the Mass Effect universe.
2,094 fan fiction articles since November 2007.
About MEFF | New Pages | New Files | Active Users | Categories | Help
Other Content
Featured Article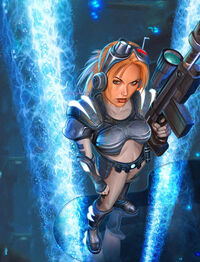 Sheila Lawson is the biological sister of Miranda Lawson. Developed just after their father lost Oriana, she was meant to be the perfect heir to his dynasty along with her twin sister, Mira Lawson. Everything, from her intelligence, physical constitution, biotic abilities, to her appearance were designed before birth to be excellent and even greater than that of Miranda's.
Click here for the complete article.
Getting Started
New to wikis?
Don't fret! Visit the Help Section.
See the Rules page to see what flies and what doesn't.
Ask a current Administrator for any help.
Create an Article
Wikia Maintenance
Please lend a hand in keeping the site updated.
Feel free to correct grammar mistakes.
Write an article or two.
Give feedback to help better the site.
Recent Blog Posts
User of the Month
This months "User of the Month" is...
Congratulations from the community of Mass Effect Fan Fiction.
Learn how to nominate a user for next month, Here.
Featured Media